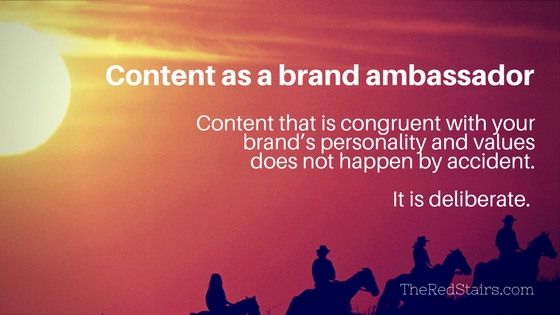 Anything you can do to influence and enhance a positive perception of your brand is a good thing. Strong brands have clearly defined personalities and can be recognized not just by what they say, but also by how they say it.
But, while many companies put considerable effort into the tools, platforms, and even the types of content marketing they do, few pay deep attention to the way they communicate.
Content that is consistently congruent with your brand's personality and values is not something that happens by accident; it is deliberate.
For content that can act as a brand ambassador, your materials should embody the voice and values of your company. You need consistency across all your collateral – social media, blog posts, thought leadership articles, product brochures, video scripts, sales documents, and everything else you publish.
Inconsistent content can damage a brand
If your content sounds like it is being created by different people with very different personalities and communication styles, your company comes off as disorganized, out of control, and erratic. Your audience develops a very foggy impression of who your brand is and what it stands for.
When prospects aren't sure exactly who they are dealing with they are more likely to move on to a competitor that gives the impression of being more reliable and dependable.
Examples of inconsistent tone, voice, and style
While both examples say, "we are careful" the tone, voice, and style of these sentences are very different.
The funny, friendly territory manager who writes sales letters and occasional blog posts:

"The chaps in the workshop measure twice, it's a precision game, and they're mighty particular."

Stuffy, formal content found in the corporate brochures:

"Every joint is precision engineered to exceed industry regulations using diamond tipped blades."
How do you achieve consistency in a brand's written communications?
The answer lies in defining your company's tone and voice so that every piece of content your organization publishes can serve as an ambassador for your brand.
What are brand tone and voice anyway?
Voice and tone are intertwined and work together. Voice embodies your brand's personality and point of view.
While your voice remains consistent across all communications, the tone may change.
Tone conveys attitude and mood and may change depending on context. For example, the tone used to launch a new product will be different to the tone used in an instruction manual.
Uncovering your brand's voice
As content strategists at The Red Stairs, we always begin this work by studying your branding standards and discussing what is appropriate for your company, audience, and market.
We also review your marketing collateral and any documents you feel portray the right personality for your business.
Our objective is to document the words, sentence types, and communication structures that are true to your brand, along with examples of those that are out of whack.
After we have completed our review, cataloged your preferences, and identified how to bring your content and brand personality into alignment, we create two important reference documents.
An Editorial Brand Style Guide
Brand Tone and Voice Guide
What is an Editorial Branding Style Guide?
This is a document that lists the nitty, gritty of the words your company uses to communicate.
It details whether you use health care or healthcare, when to spell out numbers, or if you can use an acronym or spell it out.
It will include some grammar guidelines and information that will help you avoid errors. For example, does your company president spell her name, Cindy, with an "S" or a "C."
Here are some of the things we typically include in an Editorial Branding Style Guide:
Grammar, punctuation, and capitalization.
Acronyms and abbreviations.
Formatting, e.g., use of bold and italic.
House style for spelling, e.g., healthcare or health care.
Company specific terms such as brand names.
Industry terms and words at risk of being misspelled, e.g., product names or drug names.
We call this process developing and documenting your house style.
We create the Editorial Branding Style Guide in a spreadsheet, so it is searchable and can be easily updated by your editor or brand manager.
What is a Brand Tone and Voice Guide?
This type of guide is designed to help everyone create collateral that is consistent with your brand's personality.
It usually includes your:
Core values because to communicate authentically, you need to know what you believe as an organization.
Mission and vision statements because these underlie your company's point of view.
Major audiences, so you always have a clear idea of who you are talking to.
A list of words that capture your brand's personality.
Examples of sentences that convey your brand's voice. And a few that don't.
To explain the how to achieve the right tone we use a slider to illustrate the dimensions that define your communications style. Here is an example:
Casual —–X——————————————— Formal
Enthusiastic —————————————-X—– Matter of fact
Irreverent —X——————————————- Respectful
How to use an Editorial Branding Style Guide and a Brand Tone and Voice Guide
The guides are designed for sharing with the people who create your content. Whether they are subject matter experts, or communications professionals such as writers, editors, and content developers, using the guides means better first drafts with fewer edits and rewrites.
We recommend these documents are managed by an experienced content strategist (or editor) who has the skills to evaluate written materials and guide writers on how to write in a way that meets the company standards.
As part of your marketing team, your content strategist should be responsible for content governance, making editorial decisions, and reviewing all the documents your company plans to publish. Taking the time to develop An Editorial Branding Style Guide and a Brand Tone and Voice Guide is well worth the investment. Using these documents translates into the kind of communications consistency that can strengthen your market position and help grow your sales. In addition, with clear guidelines, you will save time and money on multiple drafts and rewrites during content development.